Welcome to the 1st installment of the "No Fufuness" fantasy basketball league story in it's second season. This edition of the power rankings is part of a collection of stories featuring the progression of the "No Fufuness" fantasy league as the season unfolds. Please read last season's rankings to catch up on the full story.


Updates:

The NBA season is in week 3 and The Fantasy league has played 1,098 total games, and the team average is 109.8 gp out of a maximum of 820 games allowed. Meaning the season is, on average, 13.4% complete, with Team Nets 2036 having played the most at 128, and Team GULLY having played the least at 88. Below is the list of each team's games played (GP).

Beast team of the week:

Will be revised next installment.

Chump team of the week:

Will be revised next installment.

Team to watch this coming week:

Will be revised next installment.

High Jumps of the week (in Power Rankings)

: Will be revised next installment.

Free Falls of the week (in Power Rankings): Will be revised next installment.
​Pictured below are the actual standings.

Team Nets2036: Team Nets2036 has started off hot and has dominated the competition. Having a max lead of 20 points on 2nd place at one time. It's still the start of the season though, and the gap between 1st and 2nd has shrunk. How long will Nets2036 reign supreme?
Team Unrewarded Champ: A rise to prominence is near for team Unrewarded champ. Once in the low 90s in total points, Team Unrewarded Champ is now making a case to enter the contenders group. Stay tuned as Unrewarded Champ is only at 106 games played.
Team Papi Champu at OVOXO: Currently Papi Champu has been Team Nets2036 strongest competition. When This team is on fire, its been able to make a run at 1st place. This team has lots of potential, and owner Joey has come a long way since drafting Joakim Noah fourth overall a few years ago. Could Joey lead this team to the promise land?
Team NotCommish: Team Not commish has had nightmares over the injury bug and how it derailed his dominance from last season. However, with a brand new season here there's nothing but positive vibes to be wished upon this team. The team had a short stint at first during week 1, can this team revisit the coveted number one spot?
Team Mangual: Team Mangual has been widely considered the laughing stock of the league with his comments that make him seem oblivious. Yet, 3 weeks into the league and he has his team sitting pretty at 4th overall in the standings. How long can Owner Carlos keep his team competing?
Team Gonzalez:
Team Can't Knock The Russel:
Team Sheed:
Team 3 The Hardaway:
Team Gully:
Powered by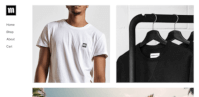 Create your own unique website with customizable templates.
Photo used under Creative Commons from BioDivLibrary